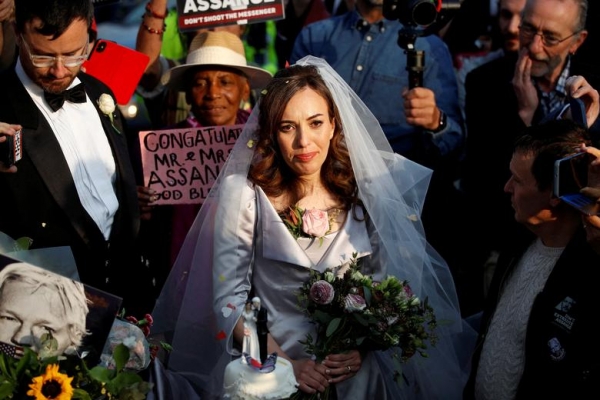 Stella Moris - mother of Julian Assange's two youngest children and his wife, as of Wednesday - always knew it wasn't going to be an ordinary wedding.
Pictures of the South African-born lawyer turned freedom-of-information campaigner smiling outside HMP Belmarsh in a bespoke silver Vivienne Westwood dress and graffitied veil stormed the internet last week, but the 38-year-old says they only paint half the picture.
tella Moris - mother of Julian Assange's two youngest children and his wife, as of Wednesday - always knew it wasn't going to be an ordinary wedding.
Pictures of the South African-born lawyer turned freedom-of-information campaigner smiling outside HMP Belmarsh in a bespoke silver Vivienne Westwood dress and graffitied veil stormed the internet last week, but the 38-year-old says they only paint half the picture.
"It was incredibly emotional," she tells me over the phone 48 hours after the small Catholic prison ceremony, saying she feels like her body is "crashing" from the rollercoaster of feelings that came with conducting her long-awaited nuptials behind bars.
After an 11-year, spy-movie-rivalling relationship, the pair were finally allowed to marry inside Belmarsh, the maximum security prison in south-east London where the Wikileaks founder has been locked up since 2019 while he awaits the outcome of a US extradition appeal at the High Court.
Moris told supporters outside the jail that she was "very happy and very sad" after the ceremony, which was attended by four guests, two witnesses and two security guards and had to be conducted during visiting hours. But today she feels ready to take me through some of the lesser-known details from the day: the morning she spent getting ready with a childhood friend, Sofia, at a hotel nearby (Sofia flew in from Stockholm and played Moris opera music to calm her nerves); the laughter when their four-year-old son Gabriel tried to set off the prison alarm mid-ceremony; the rings she and Assange exchanged, which were originally his grandparents' from 1947 (they died while he was taking refuge inside the Ecuadorian Embassy).
After the ceremony, a tearful and newly-married Moris had to leave the prison and cut the cake alone, while Assange was left inside. Of course it was a upsetting moment, she says - but it was hopeful, too, because she wasn't actually on her own. Thousands around the world made shows of support, from the hundreds who brought cards, flowers, champagne and white feathers to Belmarsh to supporters on the other side of the world in Melbourne who dressed up in suits and wedding guest dresses. The three-tiered, vegan wedding cake was made by a fan who stood by Moris' side when she cut it and another supporter offered to sponsor a bench in Chelsea as a wedding present.
Even Assange's fellow Belmarsh residents joined in, with security guards reportedly wishing them congratulations and prisoners and their visitors cheering when the pair entered the visiting bay for 30-minutes of alone time as a newly-married couple after the ceremony. "I felt enveloped by love... we both did," says Moris. "On a human level, we felt a lot of compassion and sympathy."
Many of the headlines about the wedding focused on Moris' statement dress by famed British designer Vivienne Westwood, who has long been a supporter of the couple and press freedom. "It felt like a fashion statement... something meaningful," says Moris, who might have worn white if she'd been in her early twenties but felt that at 38, she was "somewhere else in life". Instead, she chose a corseted coat dress in a silvery lilac satin.
She takes me through the significance of each outfit detail: silver was chosen as a contrast with the "dirty grey" walls of Belmarsh which "look like tears coming down the wall"; a rose was sewn into the bodice of the dress to represent her bouquet, which was not allowed inside the service; and Westwood herself wrote a message into the inside of her dress: "Julian is a pure soul & a freedom fighter. All my <3 to the family, Julian, Stella, Max & Gabriel. May the holy life force bless your marriage."
Meanwhile words sewn into Moris' veil were actually handwritten messages from loved ones because it was the next best thing after Assange's own handwriting, which they couldn't get through Belmarsh security in time. Instead, powerful statements including "valiant", "stubborn", "incandescent" and "wild" were embroidered into Moris' veil. Westwood herself added the word "unruly", and British rapper MIA and Moris' 91-year-old father, who couldn't attend the ceremony, were among other VIPs to add their messages to the collection.
Front and centre of all the messages on Moris' veil was the phrase "free enduring love" - a symbol of the couple's fight for freedom and their 11-year love story. The pair met in 2011 while Assange, 50, was claiming diplomatic asylum inside London's Ecuadorian Embassy after exposing thousands of documents relating to the Afghanistan and Iraq wars in 2010 (including footage of US soldiers shooting and killing civilians from a helicopter in Iraq). The US said Wikileaks had put its intelligence and military lives at risk, while Assange and his supporters argued that the public had a right to know and that the US was shooting the messenger. At the same time, Assange was also being threatened with extradition to Sweden, having been accused by two women of forcing them to have unprotected sex (he has always denied the accusations and has never been charged).
Moris - a multilingual SOAS- and Oxford-graduate - was on Assange's legal team at the time and they fell in love in a series of relationship milestones that read like fiction: she told him she was pregnant via a written note in case the room was bugged, he proposed via a virtual reality headset, and he watched both births via livestream before a private security firm seized the tape.
The pair went public with their relationship in April 2020 after Assange had attempted to secure bail at Moris' home due to what his lawyer called "a very grave risk of Covid" inside prison. They announced their engagement late last year and the wedding - one of a rare few ceremonies to be held inside Belmarsh - was the culmination of a five year-long battle, after years of keeping their relationship and engagement secret (Assange actually proposed in 2016 and Moris bought herself a diamond ring on his behalf) and many more months of back-and-forth with the governor and prison authorities to be granted permission to marry inside jail.
Moris always insisted the delays to having their marriage granted were "completely outrageous and illegal interference in [their] private lives" and told me in November she was relieved that "reason [had finally] prevailed". The paperwork and arrangements for marrying behind bars since then have been complex - especially while she and her legal team have been fighting a second, bigger battle: that of appealing Assange's extradition, where he is wanted on an alleged conspiracy to obtain and disclose national defence information following WikiLeaks' publication of leaked documents relating to the Afghanistan and Iraq wars.
Assange's lawyers argued that he was at suicide risk in prison, but this month - just weeks before the wedding - their extradition appeal was blocked in yet another setback, with judges saying it did not raise "an arguable point of law". His legal team say they are now preparing to bring challenges on different grounds, such as that he is the victim of a politically motivated prosecution.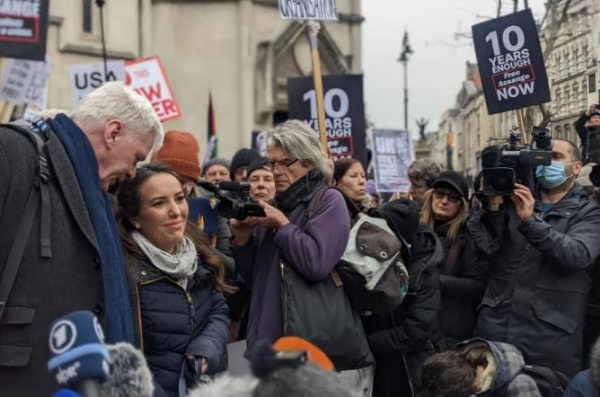 Moris insists that she will keep fighting, but no wonder she feels emotionally drained. "My immune system has been crashing [since the wedding]," she says, coughing as she tells me how she got home on Wednesday evening and fell asleep for 20 minutes next to her mother, Teresa, one of just four guests and two witnesses allowed to attend the ceremony. Her brother Adrian, Assange's brother Gabriel and father John, and the couple's two sons Gabriel, four, and Max, two, also attended in Vivienne Westwood kilts that matched their father's (Max, the youngest, has only met his father since he's been in Belmarsh).
Moris refuses to share the words of their vows - she wants to keep them private - but tells me that "everyone cried" during the ceremony and is generous with other details: the fact that Sofia - a musician - flew in from Stockholm especially and made her a wedding morning playlist; the fact that the prison placed fresh flowers in the corner of the ceremony room and they were allowed speeches and a Catholic blessing; the fact that the kids couldn't stay still and Gabriel kept reaching for the alarm button ("the guard kept having to stop him").
Until then, Moris says she'll continue to make the boys' lives as joyful and normal as she can, and feels that being husband and wife for them is the first step towards this. She wants to remember her wedding as a "celebration". "Marrying Julian would always be amazing and special, wherever it was," she says. "That ritual [of getting married] was important to us and it felt like everyone was working together to make it work, given the circumstances. It's made us strong and resilient, which is exactly what we needed... I'm going to fight for this nightmare to end so he can come home".
Wikileaks / Sydney Morning Herald
wiki@wikileaks-kr.org
저작권자 © 위키리크스한국 무단전재 및 재배포 금지